IS&T Award - 2002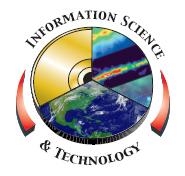 Congratulations to Dr. John E. Dorband, recipient of GSFC's Second Annual Excellence in Information Science and Technology Award
This award is presented annually to the Goddard employee(s) who best exhibit(s) broad, significant contributions to Goddard programs or projects in the areas of information science and technology. The award recognizes career achievement or a specific act of exceptional merit that was completed in the previous year.
 
Dr. John E. Dorband
Computer Scientist - Earth and Science Data Computing Division
The 2002 Award was presented to Dr. John Dorband for fifteen years of sustained ground breaking contributions to the development and application of scalable parallel computers for the solution of NASA's science problems. Throughout his career at Goddard, Dr. Dorband has been an innovator in the area of parallel programming language paradigms as a means of simplifying the implementation of applications on parallel computers. He also has enabled countless computational scientists to shift from thinking serial to thinking massively parallel. When prospective users have considered massively parallel computers for solving big problems but found the task impossible or exceedingly difficult, Dr. Dorband, with few exceptions, showed how the job could be done through new and suitable algorithmic approaches. In 1991, Dr. Dorband initiated a computational optics research program at Goddard by demonstrating that the maximum entropy technique could restore saturated regions of images from the pre-COSPAR Hubble Space Telescope.
Dr. Dorband was one of the builders of the first Beowulf system in the world, constructed at Goddard in the fall of 1994. Since then, he has tirelessly demonstrated the benefits of these inexpensive high performance parallel computers, made entirely out of commodity hardware parts and running Linux as the operating system, by building or buying ever more capable Beowulf clusters and assisting the science community to use them as increasingly capable high-end work horses.
The Spring 2003 Series will conclude on May 21 with a special colloquium that will be held in conjunction with presentation of the Center's third annual Excellence in Information Science and Technology Award (reception to follow).
Award Winners: 2001 | 2002 | 2003 | 2004 | 2005 | 2006 | 2007 | 2008 | 2009 | 2010 | 2011 | 2012 | 2013 | 2014 | 2015