IS&T Award - 2003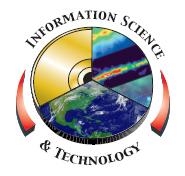 Congratulations to Janet Ormes, recipient of GSFC's Third Annual Excellence in Information Science and Technology Award
This award is presented annually to the Goddard employee(s) who best exhibit(s) broad, significant contributions to Goddard programs or projects in the areas of information science and technology. The award recognizes career achievement or a specific act of exceptional merit that was completed in the previous year.
Janet Ormes, Assitant CIO for Library Information Services and Head, Library Information Services Branch
The 2003 Award was presented to Ms. Janet Ormes for her strong, sustained leadership in advancing the use of information technologies and for eliminating the boundaries between traditional library support and the need for preserving knowledge unique to the Goddard Space Flight Center. She is a pioneer in the use of the Open Archival Information System (OAIS) Reference Model for managing and preserving electronic resources.
Ms. Ormes was a trailblazer in the use of web resources to share electronic information from library sources directly to the desktop. All of the services available from GSFC library are now accessible through the Web. Under Janet's direction, the Library catalog system was upgraded and a customizable MyLibrary portal was developed. Patrons can renew their materials; request holds on unavailable titles, request interlibrary loans, database searches and research assistance; provide suggestions for purchases or new services; or contact any staff member. The ability to perform these tasks online saves Goddard researchers valuable time as well as providing them with the most current information available at the most cost-effective means for the Center. Desktop access to approximately 1200 active journal subscriptions, 1500 electronic journal links, over 500 e-books, and hundreds of databases are available to all of Goddard.
Ms. Ormes continually seeks out opportunities to push the library's capabilities and services far beyond those of a traditional library, and one of her great strengths is her ability to form partnerships both within and outside Goddard to further these capabilities. She promotes Goddard's reputation as a leader in knowledge management through these partnerships and in taking on leadership roles.
It is particularly satisfying that Goddard is recognizing Janet's information technology advocacy in the same year that the Library is the winner of the Federal Library of the Year 2002 Award from a pool of over 1000 federal libraries and information centers. 
The Spring 2003 Series concluded on May 21, 2003 with a special colloquium held in conjunction with presentation of the Center's third annual Excellence in Information Science and Technology Award.
Award Winners: 2001 | 2002 | 2003 | 2004 | 2005 | 2006 | 2007 | 2008 | 2009 | 2010 | 2011 | 2012 | 2013 | 2014 | 2015