IS&T Award - 2004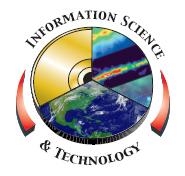 Congratulations to Troy Ames, recipient of GSFC's Fourth Annual Excellence in Information Science and Technology Award
This award is presented annually to the Goddard employee(s) who best exhibit(s) broad, significant contributions to Goddard programs or projects in the areas of information science and technology. The award recognizes career achievement or a specific act of exceptional merit that was completed in the previous year.
Troy Ames, Senior Software Engineer with the Advanced Architectures and Automation Branch
The 2004 Award was presented to Mr. Troy Ames. Mr. Ames has 20 years of software engineering experience in applied research and development supporting NASA missions and scientists. Current projects include the Instrument Remote Control project that demonstrates the feasibility of using Java and Web technologies for controlling astronomical instruments located at the South Pole, the High-resolution Airborne Wideband Camera project (HAWC) for the SOFIA airborne observatory, and the autonomous Ocean-Atmosphere Sensor Integration System (OASIS) sensor web. He holds BS degrees in Computer Science and Mathematics from University of Idaho and a MS degree in Computer Science from Johns Hopkins University. 
The Spring 2004 Series will conclude on May 19, 2004 with a special colloquium held in conjunction with presentation of the Center's fourth annual Excellence in Information Science and Technology Award.
Award Winners: 2001 | 2002 | 2003 | 2004 | 2005 | 2006 | 2007 | 2008 | 2009 | 2010 | 2011 | 2012 | 2013 | 2014 | 2015