IS&T Award - 2007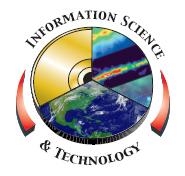 Congratulations to Patrick Coronado, recipient of GSFC's Seventh Annual Excellence in Information Science and Technology Award
This award is presented annually to the Goddard employee(s) who best exhibit(s) broad, significant contributions to Goddard programs or projects in the areas of information science and technology. The award recognizes career achievement or a specific act of exceptional merit that was completed in the previous year.
Patrick Coronado,Senior Engineer and manager of the Direct Readout
Laboratory in the Computational & Information Sciences & Technology Office
The 2007 award was presented to Patrick Coronado for his career achievements in satellite direct broadcast information technology since 1992. His most significant accomplishment during that time was leading the development of prototype software for capturing and processing direct broadcast data from the Terra and Aqua satellites. This software has been taken up by the private sector for incorporation into their systems, thus helping to enable a multi-million dollar industry. Patrick manages research and development efforts in high data-rate satellite ground systems and information and multi-sensor data processing systems, including direct readout technologies for upcoming missions such as the NPOESS Preparatory Mission. He holds a Bachelor's degree from the University of Michigan in Mechanical Engineering and Mathematics, Masters degree in Aerospace Engineering – Space Systems, and a Masters in Engineering Management from The George Washington University.
The Spring 2007 Series concluded on May 16, 2007 with a special colloquium held in conjunction with presentation of the Center's seventh annual Excellence in Information Science and Technology Award.
Award Winners: 2001 | 2002 | 2003 | 2004 | 2005 | 2006 | 2007 | 2008 | 2009 | 2010 | 2011 | 2012 | 2013 | 2014 | 2015