IS&T Award - 2012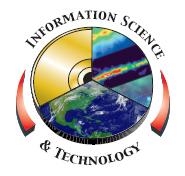 Congratulations to Jacqueline Le Moigne, recipient of GSFC's Twelfth's Annual Excellence in Information Science and Technology Award
This award is presented annually to the Goddard employee who best exhibits broad, significant contributions to Goddard programs or projects in the areas of information science and technology. The award recognizes career achievement or a specific act of exceptional merit that was completed in the previous year.
Jacqueline Le Moigne 

Assistant Chief for Technology 
Software Engineering Division
Code 580
The 2012 award was presented (**video not currently available**) to Jacqueline Le Moigne on May 23, 2012. Dr. Jacqueline Le Moigne is the Assistant Chief for Technology in the Software Engineering Division at NASA's Goddard Space Flight Center. In this position, she leads the development of software technology goals and objectives as they relate to future NASA and Goddard missions and projects. Dr. Le Moigne is also the Goddard Center Associate for the Earth Science Technology Office's Advanced Information Systems Technology Program. During her 22 years of experience at NASA, Dr. Le Moigne has worked extensively in the processing and the analysis of remote sensing data. Her work focuses on image registration that specifically utilizes wavelet analysis, as well as high-performance and on-board processing. 
Dr. Le Moigne professional accomplishments are extensive. She holds a Ph.D. in computer science from the University Pierre and Marie Curie, in Paris, France. She has written over 100 journal and conference publications as well as book chapter articles, including 22 journal papers. She is also the first author of Image Registration for Remote Sensing, a book published by Cambridge University Press in March 2011. Dr. Le Moigne is a member of many technical conference committees and a reviewer for various international journals. She has been an Associate Editor for the Institute of Electrical and Electronic Engineers (IEEE) Transactions on Geoscience and Remote Sensing as well as the journal, Pattern Recognition. She is a NASA Goddard Senior Fellow, an IEEE Senior Member, and a program evaluator for the Accreditation Board in Engineering and Technology. She also served as a panel member on the NATO Science for Peace and Security Committee from 2008 to 2011. 
Award Winners: 2001 | 2002 | 2003 | 2004 | 2005 | 2006 | 2007 | 2008 | 2009 | 2010 | 2011 | 2012 | 2013 | 2014 | 2015