Please Note: The content on this page is not maintained after the colloquium event is completed.  As such, some links may no longer be functional.
Alberto Conti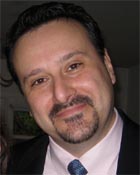 Google Sky and Virtual Observatories: making large archives available to science communities
Wednesday, November 28, 2007
Building 3 Auditorium - 3:30 PM
(Refreshments at 3:00 PM)
Alberto Conti is an Italian astrophysicist in the Community Missions Office at the Hubble Space Telescope Science Institute (STScI) inBaltimore. He is one of the creators of the GoogleSky concept. He received his PhD in astronomy fromOhioStateUniversitywith a thesis on the physics of galaxy formation. He has been at STScI since 2003. In early 2006, he sent a proposal to Google to extend the Google Earth interface to space-based data. The GoogleSky project, co-led with Dr Carol Christian, was officially released to the public in August 2007. Conti and Christian continue to work on its development.
IS&T Colloquium Committee Host: Tony Gualtieri