Goddard Showcase - Wednesday, October 20, 2021, 11am - 11:20am EST
Hackathoning Air Quality (AQ) in Cheverly, MD
Karen Moe  
Former technology manager at the NASA Goddard Space Flight Center, retiring after 40+ years at the space agency
Dr. Binita KC
Data Scientist and User Needs Lead at the Goddard Earth Sciences Data and Information Services Center (GES DISC)
Goddard Showcase - Wednesday, October 20, 2021, 11:20am - 11:40am EST
Earth Information System Infrastructure. Leveraging Infrastructure as code to do science in the cloud.
Ramon Ramirez-Linan
Technology geek with a computing engineering background for the University of Sevilla (Spain)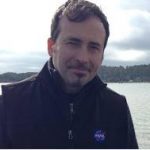 Goddard Showcase - Wednesday, October 20, 2021, 11:40am - 12pm EST
Applying Research in Artificial Intelligence for Spacecraft Resilience (RAISR) to Distributed Spacecraft Missions (DSM)
Evana Gizzi
Artificial Intelligence (AI) Ph.D. candidate at Tufts University in Boston MA, and a Pathways Intern at NASA Goddard Space Flight center in Greenbelt MD
Wednesday, November 3, 2021, 11am EST
GA Tech journey to creating a digital twin of facilities to improve planning and operations.  
Wednesday, November 17, 2021, 11am EST
Overview of ArcGIS /AGOL capabilities
Wednesday, December 8, 2021, 11am EST
Overview of how NIST SP 800-53 standards are developed and what to expect in upcoming revisions.
For an accessible version of any PDF presentation files identified that are not fully Section 508 compliant, please send a message to Matt Dosberg the Responsible NASA Official for the IS&T Colloquium site.  Include the link to the specific document/file of interest.