Please Note: The content on this page is not maintained after the colloquium event is completed.  As such, some links may no longer be functional.
Chris Harrison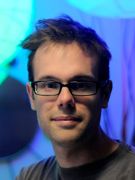 Human-Computer Interaction Institute
Carnegie Mellon University
On-Body Computing
Wednesday, February 29, 2012
Building 3 Auditorium - 11:00 AM
(Coffee and cookies at 10:30 AM)
This talk will highlight and explore an emergent shift in computing: from mobile devices we carry to using the human body itself as an interactive platform. This brings computational power even closer to the user - out of pockets and onto the skin. This evolution brings significant new challenges in sensing and interaction design. Not only is the human form incredibly dynamic and irregular, but it also comes in more than six billion different models. Moreover, unlike all other computing platforms, we have no control over the form - we can augment the body in very careful ways, but not modify it. However, along with these challenges also come exciting new opportunities for more powerful, intuitive and intimate computing experiences.
Chris Harrison is a Ph.D. student in the Human-Computer Interaction Institute at Carnegie Mellon University. He completed his BA and MS in Computer Science at New York University in 2005. Harrison was listed as one of the top 30 scientists under 30 by Forbes. He is also a recipient of a Microsoft Research Ph.D. Fellowship and is editor-in-chief of ACM's XRDS Magazine. Harrison has worked at IBM Research, AT&T Labs, Microsoft Research and Disney Research on a variety of topics, from social television to on-body computing. Currently, he is broadly investigating how to "interact with small devices in big ways" using novel sensing technologies and interaction techniques.
IS&T Colloquium Committee Host: Ben Kobler
Sign language interpreter upon request: 301-286-7040