Please Note: The content on this page is not maintained after the colloquium event is completed.  As such, some links may no longer be functional.
Chu M. Tang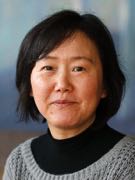 How Pixar propelled the evolution of computer generated imagery
Wednesday, April 5, 2017
Building 8 Auditorium - 11:00 AM
(Cookies at 10:30 AM)
Pixar was the first studio in history to produce a feature-length animation ("Toy Story"), which was entirely created digitally. In this talk, we will look behind the scenes of Pixar's history and how it pioneered technology in computer graphics, which not only significantly advanced the evolution of computer animation, but also visual effects worldwide.
Chu received a BA in Applied Mathematics to Statistics from the University of California, Berkeley. She launched her career in computer graphics as a CAD/CAM software engineer. To pursue her dream in creating visual effects, she initially worked at Sony Pictures Imageworks as a R&D software engineer in designing an application framework for building production tools. She later journeyed to New Zealand and worked at Weta Digital as a shader technical director on Academy Award-winning films such as The Lord of the Rings trilogy, King Kong, and Avatar.
In 2010, Chu joined Pixar Animation Studios as a shading artist. Currently, she is a senior software developer. She writes shader plugins and develops RenderMan for Houdini. Within the RenderMan Group, Chu persistently uses her artistic and programming experiences to be the "voice" for the production artists within the Studio as well as for the artists across the globe.
IS&T Colloquium Committee Host: Helen-Nicole Kostis
Sign language interpreter upon request: 301-286-7040