Please Note: The content on this page is not maintained after the colloquium event is completed.  As such, some links may no longer be functional.
Curt Tilmes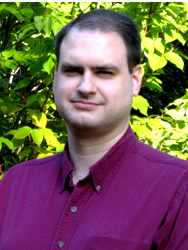 Provenance Tracking in an Earth Science Data Processing System
Wednesday, September 30 , 2009
Building 3 Auditorium - 11:00 AM
Tremendous volumes of data have been captured, archived and analyzed. Sensors, algorithms and processing systems for transforming and analyzing the data are evolving over time. Web Portals and Services can create transient data sets on-demand. Data are transferred from organization to organization with additional transformations at every stage. Provenance in this context refers to the source of data and a record of the process that led to its current state. Provenance is important for understanding and using scientific datasets, and critical for independent confirmation of scientific results. Managing provenance throughout scientific data processing has gained interest lately and there are a variety of approaches. Large scale scientific datasets consisting of thousands to millions of individual data files and processes offer particular challenges. This talk will introduce the general area of provenance tracking and describe its application to earth science data processing.
Curt Tilmes is currently the technical lead on two Ozone processing projects: the Ozone Monitoring Instrument (OMI) Science Investigator-led Processing System (SIPS) which has been processing ozone data from the Earth Observing System's Aura spacecraft since its launch in 2004, and the Ozone Product Evaluation and Analysis Tool Element (PEATE) which is preparing to evaluate data from the National Polar-orbiting Operational Environmental Satellite System (NPOESS) Preparatory Project (NPP) after its launch.
Curt also played a key role in the MODIS (Moderate-resolution Imaging Spectroradiometer) Emergency Backup System (MEBS), and was the lead system architect of the MODIS Data Production System (MODAPS) that has been processing data from the EOS Terra and Aqua spacecraft since their launches in 1999 and 2002.
He holds BS degrees in Computer Engineering and Computer Science from Virginia Tech, and MS degrees in Computer Science and System Engineering from Johns Hopkins University and is currently a doctoral candidate at the University of Maryland, Baltimore County
IS&T Colloquium Committee Host: Ben Kobler