Please Note: The content on this page is not maintained after the colloquium event is completed.  As such, some links may no longer be functional.
John Richards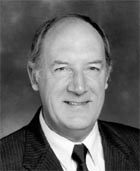 Thematic Mapping from Mixed Spatial Data Types
Wednesday, October 29, 2003
Building 8 Auditorium - 11:00AM
(Refreshments at 10:30 AM)
Prof. John Richards will talk about Thematic Mapping from Mixed Spatial Data Types. One of the current challenges in remote sensing image classification is to form joint inferences about what is observed on the earth's surface using a range of often incommensurate spatial data types. This talk will review progress in the area. It will draw attention to a number of practical issues, such as the data types being available in different places and at different times, and with quite different mathematical characteristics. It will then discuss how those issues impact on the analytical procedures to be adopted.
John Richards is professor of Electrical Engineering at the Australian National University and will shortly take up appointment as Director of the Research School of Information Sciences and Engineering.
He was Deputy Vice-Chancellor and Vice-President of the University from October 1998 to October 2003. Previously he worked for eleven years at the University College, Australian Defence Force Academy, where he served as Rector (Chief Executive Officer) from July 1996 to September 1998. He was also Head of the School of Electrical Engineering (June 1987 to July 1996) and Deputy Rector (December 1991 to July 1996).
He graduated from the University of New South Wales with the degrees of Bachelor of Engineering (Hons 1) and Doctor of Philosophy, both in Electrical Engineering, in 1968 and 1972 respectively. He is a Fellow of the Australian Academy of Technological Sciences and Engineering, and a Fellow of the Institute of Electrical and Electronics Engineers, N.Y.
He has held sabbatical positions at Purdue University and the University of California, Santa Barbara.
He is the author of Remote Sensing Digital Image Analysis, Springer, Berlin (3rd edition co-authored by X.Jia, 1999).
IS&T Colloquium Committee Host: Jacqueline Le Moigne