Please Note: The content on this page is not maintained after the colloquium event is completed.  As such, some links may no longer be functional.
Michael Starobin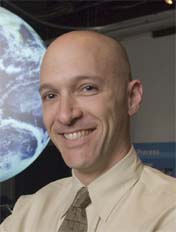 Cinema in the Round: An Introduction to Spherical Filmmaking
Wednesday, February 21, 2007
* SPECIAL LOCATION *
GSFC Visitor Center
Auditorium - 3:30 PM
(Refreshments at 3:00 PM)
Aesthetic and technical conventions of visual media on rectangular surfaces have been largely established. Issues regarding perspective and composition have been essentially defined over the last several hundred years of traditional Western art, and their extension into electronic media remains an issue more of incremental refinement rather than profound development. With the recent introduction of spherical projection surfaces, many things change dramatically. Artists and engineers face significant new challenges and opportunities, and in a rare moment, there's suddenly a major new avenue for visual and communicative research.
Michael Starobin is the senior producer for NASA Television at Goddard. His work for the space agency includes executive level speech writing, video production, and media consultation. His films and videos have played to international audiences and garnered a list of professional awards.
In 2006, Starobin led a team at Goddard in the creation of the world's first spherical movie, called FOOTPRINTS. Time Magazine named it one of the best inventions of the year; it's currently playing in more than a dozen science museums around the country.
Mr. Starobin has a degree in anthropology from Macalester College in St. Paul, MN, with honors work in biomedical ethics. Prior to coming to work at Goddard, he worked as a science reporter for a national news company called Conus, and later managed their Washington DC news gathering operation.
IS&T Colloquium Committee Host: Karen Moe