Please Note: The content on this page is not maintained after the colloquium event is completed.  As such, some links may no longer be functional.
Pamela Gay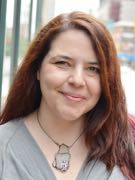 CosmoQuest: Building communications, collaboration, and perhaps a Skinner Box for Science
Wednesday, March 8, 2017
Building 3 Auditorium - 11:00 AM
(Cookies at 10:30 AM)
The CosmoQuest virtual research facility strives to be a place where diverse people feel welcome, and want to take a break to do (and learn) science. As our professional community faces an ever increasing flux of data from myriad space and ground based instruments, it is in our best interests to find ways to recruit volunteers to aid in our research efforts. While many facilities exist, CosmoQuest is unique in it's approach, which combines an emphasis on science communications and education with citizen science. In this talk, Dr. Pamela Gay will overview CosmoQuest's programs and functionality, and present research into the motivations, needs, and behaviors of Citizen Science Participants. She will also highlight how CosmoQuest is beginning to add Gamification to CosmoQuest in a quest to create an addictive Skinner Box that will keep people doing science.
Pamela Gay is an astronomer, writer, and podcaster who uses new media to engage people in science and technology. Dr. Gay is currently the Director of Technology and Citizen Science at the Astronomical Society of the Pacific, and she is one of the founders of CosmoQuest, a site that allows the public to participate in NASA related research, while also giving them access to online seminars, star parties, and classes. Since 2006 she has been the co-host of the weekly Astronomy Cast podcast
IS&T Colloquium Committee Host: Nargess Memarsadeghi
Sign language interpreter upon request: 301-286-7040