Please Note: The content on this page is not maintained after the colloquium event is completed.  As such, some links may no longer be functional.
Peter Corbett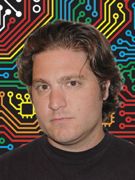 Civic Innovation through Mass Collaboration
Wednesday, December 1, 2010
Building 3 Auditorium - 11:00 AM
(Coffee and cookies at 10:30 AM)
Social technology has enabled a new kind of collaboration among citizens and government that is leading to unexpected results. When problems, ideas and solutions implementation are sourced from far and wide, we're able to find the innovative path faster and cheaper than previously possible. This colloquium will highlight examples of Peter Corbett's work in co-creating Apps for Democracy, Apps for the Army, Digital Capital Week, Government 2.0 Camp and Public Media Camp. We'll discuss how Open Government through Open Data builds a smarter, faster public sector that leverages its citizen talent to solve problems and inspire new approaches.
You will learn how non-traditional solvers like Peter have disrupted existing processes for cities, federal government and communities in search of '2.0' ways of achieving their missions. His work has been replicated in over 30 countries and cities around the world, and continues to inspire movements affecting global development, disaster response and urban revitalization efforts local and internationally. Examples of Peter's work can be found here.
Peter Corbett is the founder and CEO of iStrategyLabs - an interactive agency that develops creative solutions to clients' challenges and brings them to life in the digital and physical world. He's widely known for his creative marketing approaches coupled with a deep technical background, and a focus on civic innovation through community building. Peter has won multiple industry awards and accolades:
5 Addy's for digital and experiential campaigns
2 Living Labs Global Innovation awards
1 Pioneer Institute Better Government Award
Power 30 Under 30™ 2010
2x named one of the most influential Washingtonians under 40 by WashingtonLife
Named one of 100 Tech Titans by Washingtonian Magazine
Named one of 25 Doers, Dreamers and Drivers by Government Technology Magazine
Won Greater Washington DC Board of Trade's "One To Watch" award for being "A rising entrepreneur who has a bright and sustainable future in Greater Washington"
In Government 2.0 circles, Peter is widely known for co-creating Apps for Democracy with Vivek Kundra and DC's Office of the CTO, and the Apps for the Army program for the US Army. His focus on creating - rather than just talking about - smarter, better, faster, and cheaper ways of doing things has inspired initiatives in more than 25 countries around the world. iStrategyLabs is currently working on the Apps for the Army program for the US Army.
IS&T Colloquium Committee Host: Paul Hunter
Sign language interpreter upon request: 301-286-7040
Request future announcements