Please Note: The content on this page is not maintained after the colloquium event is completed.  As such, some links may no longer be functional.
Zach Brand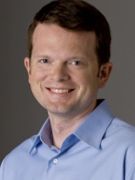 Chief of Technology Strategy and Operations
National Public Radio, Digital Media
Content Chameleon: How (and Why) NPR's Content Goes Everywhere
Wednesday, April 27, 2011
Building 3 Auditorium - 11:00 AM
(Coffee and cookies at 10:30 AM)
Today's media landscape is more fragmented than ever, and an organization like National Public Radio (NPR) must address a growing number of channels when strategizing about multichannel experiences. While traditional Radio and Web sites are still important parts of its strategy, NPR also needs to be agile enough to support alternate channels such as Facebook, iPhone, Android, and a myriad of home entertainment devices. This presentation will tell the story of how NPR's flexible content approach allowed it to build multichannel experiences more quickly and cost effectively. In this session, attendees will learn about:
How taking a multichannel approach has been good for NPR's business.
What technology, process and skills are required to support cross-media solutions.
The real-world tradeoffs and challenges NPR faced in making content more portable.
The architectural mistakes NPR made, and how they have been solved.
Critical areas to think about to ensure that you can build new digital applications quickly.
Zach Brand is the Senior Director of Technical Strategy and Operations at NPR. In this position he oversees all of NPR's Digital Media technical efforts, which include the NPR.org website, the NPR mobile site, the RSS feed, NPR's Application Program Interface (API), NPR podcasts, and online services for stations. Since Brand joined NPR in October 2007, he has focused on developing extensible and reusable architectures for tools and content. Brand played a critical role with the team that developed and launched NPR's API, which provides a structured way for other computer applications to get NPR stories in a predictable, flexible and powerful way. He was instrumental in the production of the various iPhone, iPad, and Android mobile applications. Brand's contribution to NPR Digital Media have helped earn the company several top industry awards, including an Edward R. Murrow award in 2010, the 2009 Peabody award for the redesign of NPR.org and two Online Journalism Awards for NPR mobile apps and the API in 2010. Prior to working at NPR, Brand oversaw technology for Washington Post Newsweek Interactive, including washingtonpost.com, newsweek.com, and slate.com.
IS&T Colloquium Committee Host: Paul Hunter
Sign language interpreter upon request: 301-286-7040