IS&T Award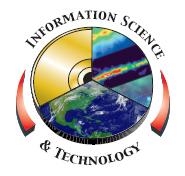 The annual Excellence in Information Science and Technology (IS&T) award is presented to a Goddard employee who best exhibits broad and significant contributions to Goddard programs or projects in the areas of Information Science and Information Technology. This award may be for career achievement or for a specific recent contribution to the field of IS&T.
CRITERIA
All Goddard employees are invited to submit nominations, and there is no limit to the number of nominations that may be submitted. The text of the nomination should clearly describe the nominee's accomplishment(s) and its significance in the areas of innovation, impact, and relevance to (1) Information Science (the analysis, collection, classification, manipulation, storage, retrieval, movement, and dissemination of information) and/or (2) Information Technology (development, maintenance, and use of computer systems, software, and networks for the processing and distribution of data). Supplemental material may be included and will be considered.
NOMINATIONS
Nominations not selected for the award will automatically be held for reconsideration the following year, but may also be modified and resubmitted.
ELIGIBILITY
All current Goddard civil servants are eligible to receive this award.
Additional Information on Goddard Awards   (NASA-Only access)
Award Winners: 2001 | 2002 | 2003 | 2004 | 2005 | 2006 | 2007 | 2008 | 2009 | 2010 | 2011 | 2012 | 2013 | 2014 | 2015